For drivers in the United States, Google Maps and Waze— both owned by Google— are the two most popular navigation apps to use in the car, with Google Maps as the nationally preferred app. To see how Waze and Google Maps compared among actual drivers, Drivemode analyzed the trends of over 876K navigation app launches from anonymized Android users over the past two years.
Drivemode's research showed Waze was able make consistent traction as the preferred navigation app for drivers in top U.S. cities including Boston, New York City, Atlanta, Los Angeles and Chicago. However, on a statewide level, maintaining market share seemed to be a bit more difficult. The top ten states where Waze was able to gain a market foothold of over 10% were Massachusetts, New York, Colorado, Georgia, Pennsylvania, Washington, Illinois, California, Florida, and Texas. However, most of these states showed a decline in 2018. The data on a national level reflected this trend as well—out of all 2017 navigation app launches in this study, Waze accounted for 24% of overall launches, compared to 19% in 2018.
"Drivemode's data covers a specific population of US Android drivers for whom Google Maps is the native navigation app and installed by default. Any traction that Waze is able to make with this group of drivers shows how competitive their user experience must be," said Yo Koga, founder and CEO of Drivemode. "We clearly see Waze gaining popularity in big cities, but losing momentum in states overall. Waze's metro appeal may be attributed to its emphasis on traffic conditions—not just routes—which is particularly useful for motorists tackling often-congested urban roadways. At the same time, Google Maps is constantly improving its traffic predictions making it sufficient for more and more drivers."
From 2017 through 2018, Waze has consistently attracted users in the top five cities below, showing the strongest market foothold among representative Android drivers year over year. Cities are ranked by how often Waze was launched compared to Google Maps in 2018.
Percentage of Drivers Launching Waze vs. Google by City
| | | | | |
| --- | --- | --- | --- | --- |
| Rank | City | App | 2017 | 2018 |
| 1 | Boston | Waze | 21.9% | 26.2% |
| | | Google | 78.0% | 73.7% |
| 2 | New York City | Waze | 19.6% | 22.4% |
| | | Google | 80.3% | 77.5% |
| 3 | Atlanta | Waze | 15.7% | 21.3% |
| | | Google | 84.2% | 78.6% |
| 4 | Los Angeles | Waze | 13.6% | 16.6% |
| | | Google | 86.3% | 83.3% |
| 5 | Chicago | Waze | 13.4% | 15.5% |
| | | Google | 86.5% | 84.4% |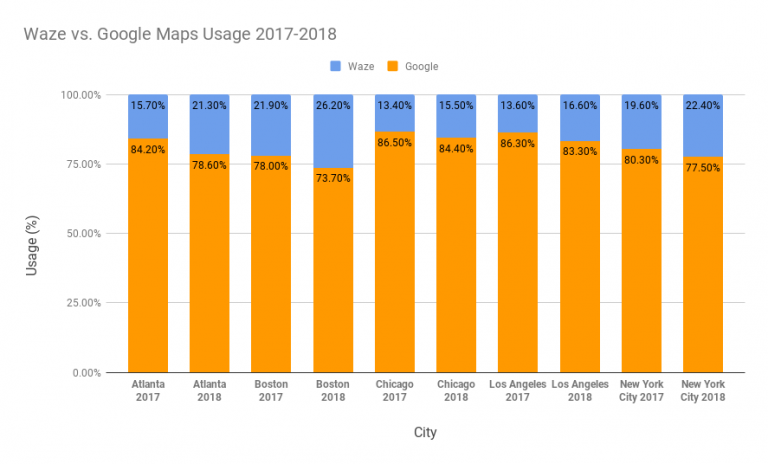 In 2018, drivers in these big cities were consistently more likely to use Waze than the average drivers across their respective states. Comparing the frequency of Waze use in cities to the larger state cohort, drivers in Los Angeles used Waze 82% more than the larger California population. Drivers in Atlanta used Waze 50% more than Georgia drivers overall; Boston drivers used Waze 46% more than Massachusetts drivers; New York City drivers used Waze 43% more than New York State drivers; and Chicago drivers used Waze 42% more than Illinois drivers overall.
"It's likely that urban drivers will include more tech savvy populations who are willing to try apps beyond their native Google suite. However, Google Maps' integration of more user generated live traffic reporting may slow down - or possibly reverse - some of Waze's big-city popularity growth," said Koga. "Interestingly, the community of Waze drivers manually reporting traffic conditions in real time indeed helps Google Maps provide better traffic reports. I am sure maintaining these two competing products under the same company has challenges, but I would say this delicate relationship between Google Maps and Waze is one of the most successful technology competitions under the same umbrella."
In the top ten states below, Waze enjoyed a rate of 10-24% of navigation app launches. However, Waze failed to maintain that popularity in 2018, showing a consistent decrease across states. States are ranked by how often Waze was launched compared to Google Maps in 2018.
Percentage of Drivers Launching Waze vs. Google by State
| | | | | |
| --- | --- | --- | --- | --- |
| Rank | State | App | 2017 | 2018 |
| 1 | Massachusetts | Waze | 24.8% | 17.9% |
| | | Google | 75.1% | 82.0% |
| 2 | New York | Waze | 18.2% | 15.6% |
| | | Google | 81.7% | 84.3% |
| 3 | Colorado | Waze | 12.2% | 14.3% |
| | | Google | 87.7% | 85.6% |
| 4 | Georgia | Waze | 18.9% | 14.2% |
| | | Google | 81.0% | 85.7% |
| 5 | Pennsylvania | Waze | 17.5% | 13.8% |
| | | Google | 82.4% | 86.1% |
| 6 | Washington | Waze | 14.0% | 13.7% |
| | | Google | 85.9% | 86.6% |
| 7 | Illinois | Waze | 14.4% | 10.9% |
| | | Google | 85.5% | 89.0% |
| 8 | California | Waze | 12.9% | 9.1% |
| | | Google | 87.0% | 90.8% |
| 9 | Florida | Waze | 11.5% | 9.0% |
| | | Google | 88.4% | 90.9% |
| 10 | Texas | Waze | 12.8% | 8.2% |
| | | Google | 87.1% | 91.7% |